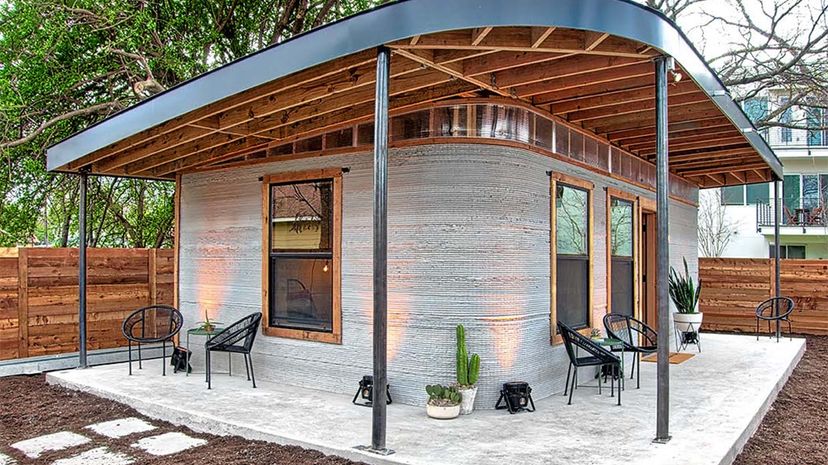 Across the globe, 330 million families can't find a decent affordable home to live in, and the problem is rapidly growing worse, according to a working paper issued last year by the World Resources Institute. As this 2015 Reuters story details, the slums of fast-growing cities in Latin America are filled with haphazard shacks built from scrap metal and wood, erected by impoverished urban dwellers.
But now, Austin, Texas-based construction technology startup ICON and San Francisco-based nonprofit housing organization New Story may have at least part of the answer to the world's affordable housing problem. They've developed a house that can be built in fewer than 24 hours, for a projected cost of less than $4,000, using a special mobile 3-D printer that is designed to work in rugged conditions in developing countries.
ICON and New Story recently demonstrated the technology in Austin, by producing what reportedly is the first 3-D-printed house in the U.S. that's up to code and fully permitted for people to live in.
"We wanted to build and meet the highest of U.S. housing codes to prove the technology has the ability to build safe, strong homes that can face hurricanes and earthquakes," New Story co-founder and head of product Matthew Marshall explains in an email.
Here's a YouTube video about the project:
In an email, ICON co-founder Jason Ballard says that he and his partners, Alex Le Roux and Evan Loomis, began working together in early 2017, out of a mutual interest in finding a more efficient, less wasteful way to build affordable houses. "Approaches to construction hadn't changed in so long it was like people had forgotten how to even imagine a different way," Ballard explains.
ICON and New Story subsequently joined forces through entrepreneurial accelerator Praxis, according to Marshall.