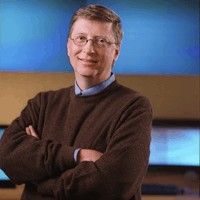 Bill Gates founded Microsoft in 1975. He stepped down as chief executive officer in January of 2000 and in 2006 began working full-time for the Bill and Melinda Gates Foundation. See where Bill Gates went to school next.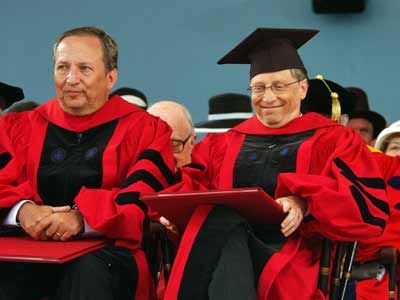 Darren McCollester/Getty Images
Bill Gates sits on stage during commencement at Harvard University, June 2007. Gates, who enrolled at Harvard in a pre-law program in 1973 and left in his junior year, received an honorary Doctor of Laws degree. See what magazine Gates is on next.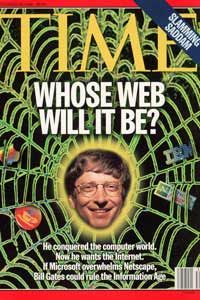 Time & Life Pictures/Getty Images
The September 16, 1996 cover of TIME featured Bill Gates. Since then he has been busy with Microsoft and helping to solve the global problem on the next page.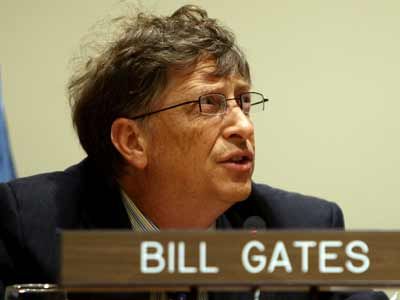 Bill Gates speaks at a press conference on the Millennium Development Goals at annual United Nations General Assembly meeting, September 2008. Leaders discussed the global financial crisis. Next, see what singer joined Gates to support world economy.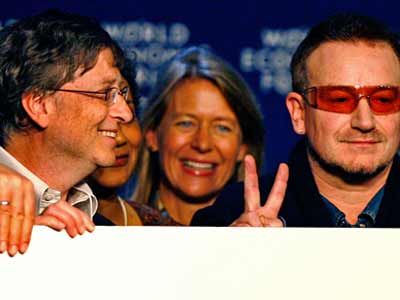 Jeff J Mitchell/Getty Images
Bill Gates and Bono attend a press conference during the third day of the World Economic Forum, January 25, 2008, in Switzerland. Gates does this activity on the next page to unwind from solving world issues.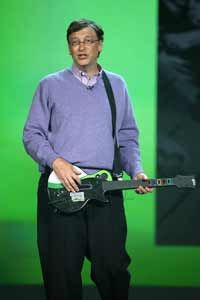 ROBYN BECK/AFP/Getty Images
Bill Gates plays Guitar Hero during his pre-show keynote address at the 2008 Consumer Electronics Show (CES). Gates kept with the games when launching Microsoft's Silverlight for the Olympics next.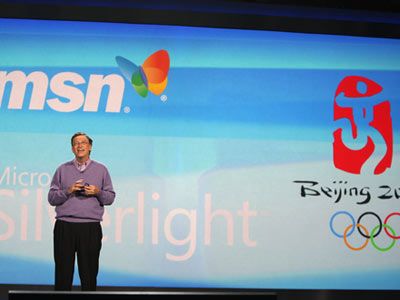 Robyn Beck/AFP/Getty Images
Bill Gates talks about Silverlight at the 2008 Consumer Electronics Showcase. Silverlight allows streaming video, audio and animation into Web pages and was featured during the Olympics. See Gates in Beijing during the games next.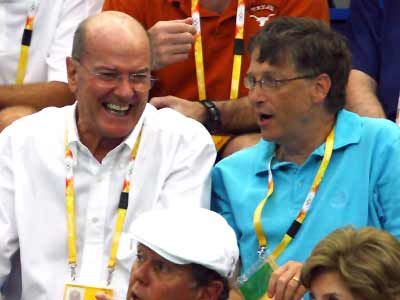 Shaun Botterill/Getty Images
Chairperson of The IOC Press Commission Kevin Gosper and Bill Gates watch the swimming held at the National Aquatics Center on Day 3 of the Beijing 2008 Olympic Games. See what famous rapper Gates is watching a basketball game with next.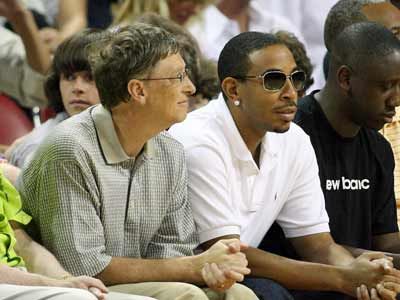 Ethan Miller/Getty Images
Bill Gates and Ludacris sit courtside during the 2008 State Farm Basketball Challenge exhibition game between the USA and Canadian Men's Senior National Teams. See how else Gates is involved with global competition next.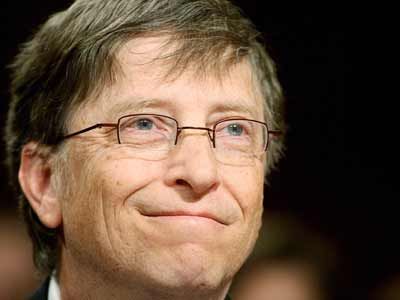 KAREN BLEIER/AFP/Getty Images
Microsoft Chairman Bill Gates testifies before the Senate Health, Education, Labor and Pensions Committee hearing on American competitiveness on Capitol Hill. On the next page, see what former U.S. president shakes hands with Gates.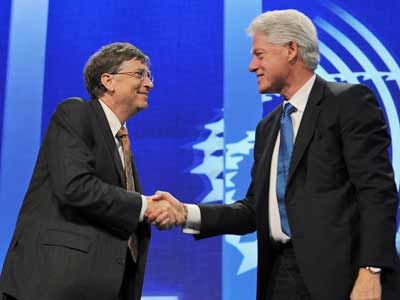 STAN HONDA/AFP/Getty Images
Bill Gates shakes hands with former U.S. president Bill Clinton at the Clinton Global Initiative. The event brought together global leaders to develop workable solutions to world challenges. See one solution in Uganda next.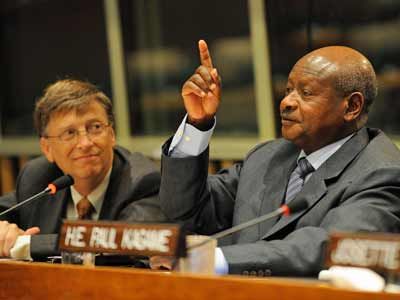 DON EMMERT/AFP/Getty Images
Bill Gates listens to Yoweri Museveni, President of Uganda, as he announces plans to launch a joint initiative to empower small farmers at a news conference at the United Nations. The next world leader offered Gates a polar bear.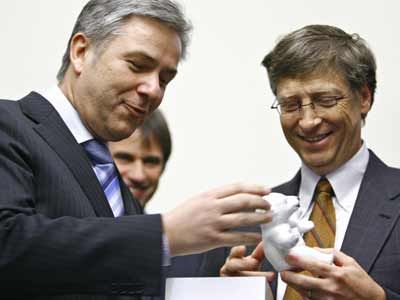 AXEL SCHMIDT/AFP/Getty Images
Berlin's mayor Klaus Wowereit gives the figurine of a polar bear to Microsoft founder Bill Gates during a visit to Berlin. On the next page, see what country received $3 million from Gates for natural disaster relief.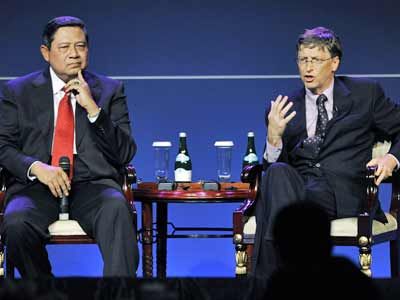 JEWEL SAMAD/AFP/Getty Images
Indonesian President Susilo Bambang Yudhoyono and Bill Gates answer questions during the Government Leaders Forum Asia conference. There Gates announced his donation of $3 million for the Myanmar cyclone victims. Next, Gates helps unemployment.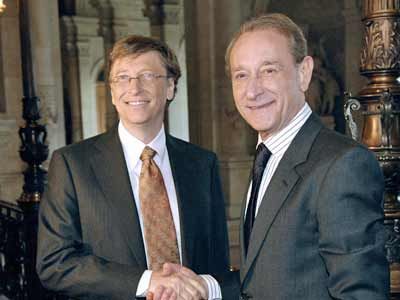 STEPHANE DE SAKUTIN/AFP/Getty Images
Paris Mayor Bertrand Delanoe welcomes Bill Gates prior to a meeting at the Paris City Hall, where they signed a 'digital partnership' to support new Parisian companies and help train unemployed people. Gates takes on smokers on the next page.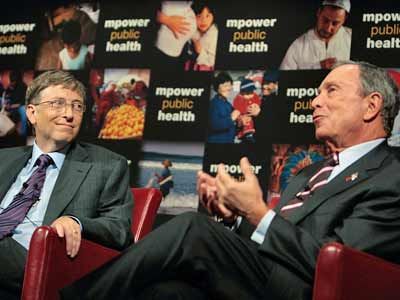 Chris Hondros/Getty Images
Microsoft co-founder Bill Gates and New York City Mayor Michael Bloomberg announce their half a billion dollar support for a new anti-smoking initiative. Gates continues to work on health with the next country's leader.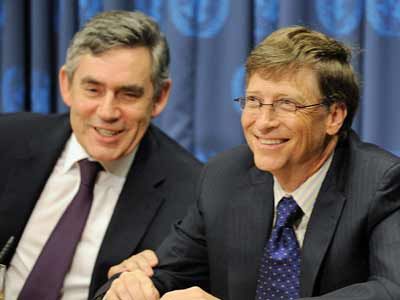 DON EMMERT/AFP/Getty Images
Gordon Brown, Prime Minister of the United Kingdom, and Bill Gates join together for a news conference on the Global Campaign for Health at the United Nations. See what Gates is currently doing at Microsoft next.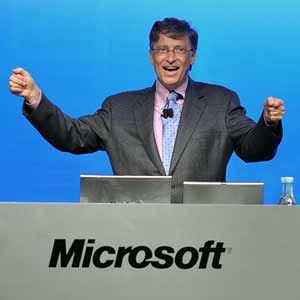 MIKE CLARKE/AFP/Getty Images
Bill Gates works at Microsoft part-time as a non-executive chairman. See How Microsoft Works to learn more.