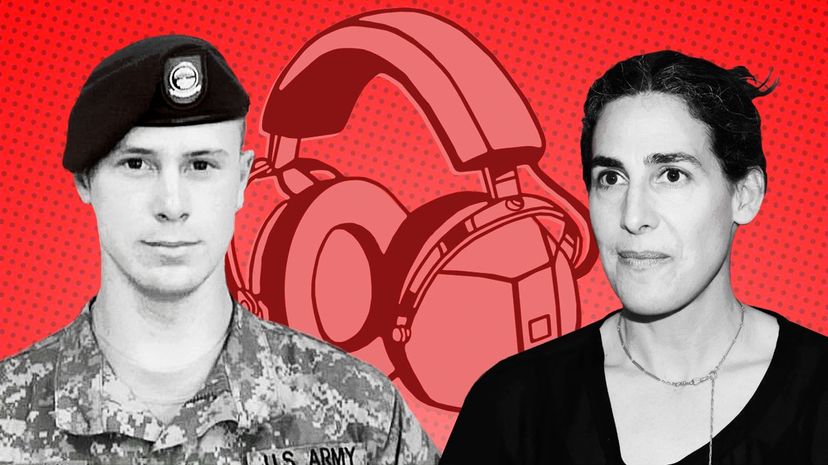 It's been a little more than 24 hours since the first episode of "Serial's" second podcast season dropped. If you're obsessed enough with the "This American Life" spin-off's unique, addictive storytelling, this is more than enough time to have listened on your commute, your lunch break or maybe even during an impromptu podcast party.
While the first season of "Serial" asked whether Adnan Syed was guilty of the 1999 murder of Hae Min Lee, its sophomore outing is considerably different. That's not just due to the new storyline, which centers on the disappearance, captivity and release of U.S. soldier Bowe Bergdahl, who spent five years held by the Taliban as the longest-held U.S. soldier since the Vietnam War. "Serial" also has broader distribution and new transmedia elements that offer listeners multiple perspectives.
Plus, the producers of "Serial" know there's money behind it now. They even went to Cannes earlier this year to court sponsors for this season. But don't worry, that familiar, endearing MailChimp ad is back. 
Having happily worked with the same sponsors ourselves at HowStuffWorks, it's good to hear that the "Serial" folks treat their ad breaks seriously, even with all the brand interest. For example, producer Julie Snyder has said that she won't consider ads in the middle of an episode for formatting reasons. Likewise, she's conscious that these brands have to be a good fit with the voice of "Serial."
The streaming radio service Pandora is also distributing this second season of "Serial." This is Pandora's first foray into podcasts, and it can insert its own ads during its version of each episode. Together, "Serial" and Pandora share that ad revenue, though it's unclear if "Serial" has control over which brands are represented.
Pandora opens "Serial" up to an even broader audience, which is saying something, considering some reports have the first season of "Serial" at over 100 million downloads. They reached 5 million downloads at the fastest rate in iTunes history, with about 60 percent of those listening on mobile devices. All this led to much speculation last year about a renaissance for the podcast industry.
If the numbers don't convince you of that renaissance, how about a television show and a feature film tie-in? Christopher Miller and Phil Lord, the directors of "The Lego Movie," "22 Jump Street" and the upcoming Han Solo "Star Wars" spin-off have optioned the television rights to chronicle the making of the podcast. The "Serial" team also shared its second season research and resources with screenwriter and film producer Mark Boal and his company Page One.
Having already produced "Zero Dark Thirty" and "The Hurt Locker," Boal is working on a movie about Bergdahl's story for Oscar winner Kathryn Bigelow to direct. Between these deals and "Serial's" own additional blog and video content, this season is going to span across multiple forms of media. The question is: Will these other platforms add to Bergdahl's tale? Or is the tight audio production of "Serial" enough?
 If the first episode is any indication, the podcast alone is doing just fine. With a large team of producers, researchers, editors and other staff, "Serial" is actually producing two seasons simultaneously, with the third scheduled to premiere next spring. While host Sarah Koenig may have played it looser in the first season, Snyder definitely helped to keep the show's voice concise and streamlined. Do they have more of a game plan this time? Probably. But they also learned to let the narrative play out in front of them.
Using recorded interviews, scripted narration, background audio, composed music and 25 hours of recorded calls between Boal and Bergdahl, the show aims to get the full picture. 
From the beginning, "Serial" also has made use of smart podcasting techniques, like a judicious use of pausing and profanity. When the podcast goes silent and all you hear is room tone — even for a second — it emphasizes what was said and punctuates story transitions. Likewise, when Sarah Koenig uses profane language, it's not accidental. Despite potential connotations that might offend some or reduce her credibility, when Koenig swears it's conversational. That's what draws us in even further.
These production tricks enhance an already compelling narrative. In fact, more than anything this season's theme may be summed up by Bowe Bergdahl recalling his time in captivity, asking himself, "What am I?" He's considered a deserter who deliberately abandoned his post in Afghanistan. But the first episode's title "DUSTWUN" hints that "Serial" is zooming out to reveal something more about leadership, military culture and the consequences of whistleblowing.
Listen to the podcast to make your own decisions about Bergdahl's actions, which he himself refers to as "gutsy, but stupid."