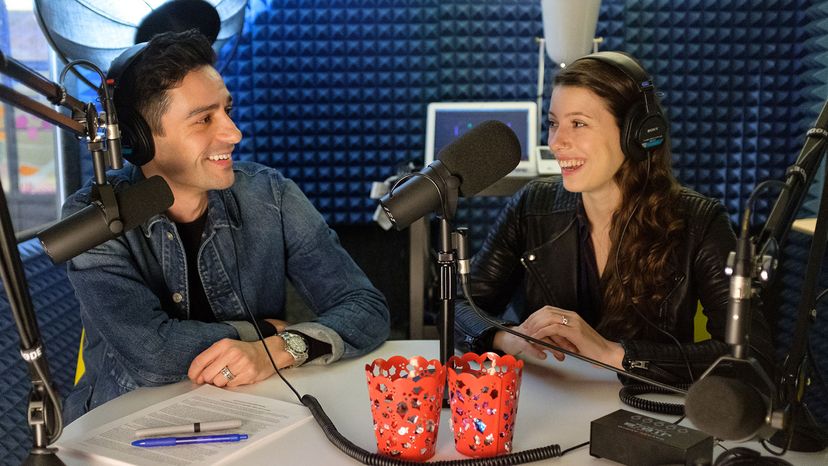 Nicholas was in a bad car accident in the sixth grade and cracked his skull. "The doctors didn't think I'd make it," he remembers. "At the time, I didn't know why this happened to me but now I can use my experience to share with others and share my [spiritual] views." Nicholas believes surviving his accident made him a more spiritual person and that everything happens for a reason. But another respondent is not so sure. "If we tell ourselves 'it was meant to be,' you're saying you have no control [over the event]. It's like a coping mechanism," she says. Both speakers — and other everyday folks — debated this question on an intriguing episode of The Question Booth podcast called "Does Everything Happen For A Reason?"
Every weekend, you'll find people escaping the chaos of the crowds, shops and food hall of Ponce City Market, Atlanta and heading for a little oasis on the second floor of the building. There, in the privacy of a sound booth, people spill their guts out for 15 minutes on topics like "When Was the Last Time You Felt Different?", "If You Could Only Smell One Thing, What Would It Be?" or "Why Are People so Mean?"
The answers are turned into a weekly podcast called "The Question Booth," which is there to "ask people the big questions and find out how we are more alike than different," as the show's site explains.
The show is produced and hosted by Kathleen Quillian and Dylan Fagan. Quillian conducts the interviews between 12 and 5, Friday through Sunday at the booth in Ponce City Market.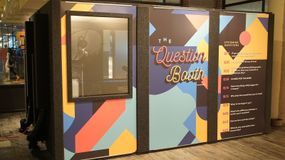 "I love that we talk to normal everyday people who — this was not part of their planned day, to be on a podcast — and just to sit down and turn off your phone and have a face-to-face conversation. I feel that we've really lost that [connection] today," she shares.
She's constantly surprised at how open people are. "Maybe because I'm so private, I'm amazed at what people tell me. But I'm really happy that they feel like it's a safe space," Quillian offers.
It doesn't take much for people to start disclosing very personal information to her after she lobs them her standard warmup question of what they've had for breakfast, to check the microphone levels. After that, they're off to the races. Quillian doesn't give questions to participants in advance to keep answers more spontaneous.
She also finds that if people see someone already in the booth, it sparks them to want to go in as well: "They're like 'She's not a murderer! It's safe.'" She's even acquired some regulars who come in often to share what's on their minds.
Why would they keep returning? Fagan says maybe they see this as a form of therapy.
"We don't always solve a problem every week, but we're trying to build bridges of empathy [so you] realize that you're not the only one feeling that way," he says. "A lot of times with social media you see everyone else's lives, and it looks like they're having the best time. But we're showing people's vulnerabilities and showing that it's not just you."
After getting about 20-25 respondents to a topic, the producers listen to all the answers and grade them from 1-4. The 3s and 4s are the ones likely to end up on the podcast show.
A memorable episode for them was "When in Your Life Have You Felt Lost?" because of the input from a special guest, author and designer Victoria Price, who just happens to be Vincent Price's daughter. "It's nice that she echoed the feeling that it's OK to be lost. The participants who came into the booth for that question, it was a relief for them to talk about times in their lives they were lost or to admit 'I feel lost now,'" says Quillian. "There's a part where we compile people saying, 'I feel lost, I feel lost.' It makes you feel like you're not alone, and I really loved being able to provide that sigh of relief."
Another popular episode was "If You Could Only Smell One Thing, What Would It Be?" "I've never seen such pure joy on people's faces when talking about smell," says Quilllian. Take for instance a respondent named Vivienne. Her favorite smell was jackfruit which to her smells of community. "I've been living in Uganda," Vivienne says, "and there are jackfruit vendors everywhere. A huge jackfruit is the size of a baby so it has to be shared with others."
The hosts say that participants often turn the questions back to them and want to know what they think. So, we'll do the same regarding the first show we mentioned: Do they believe everything happens for a reason?
"That was one we found that was contradictory," says Fagan. "There were times we believe it and times we don't. If it helps you through the day to believe that something happens for a reason, then I think it's OK."