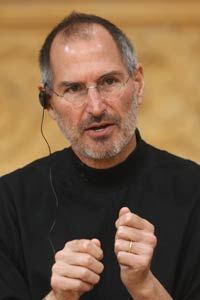 Sean Gallup | Agency: Getty Images
Steve Jobs co-founded Apple Inc. in 1976 and served as the company's CEO. Learn all about his life and successes at Apple on the next pages.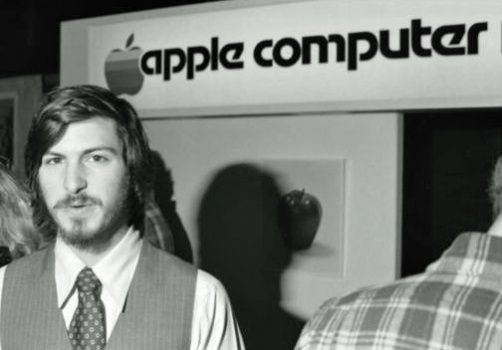 Photo by Tom Munnecke/Getty Images
At age 22, a young Steve Jobs attended the first West Coast Computer Faire, where the Apple II computer debuted in April 1977.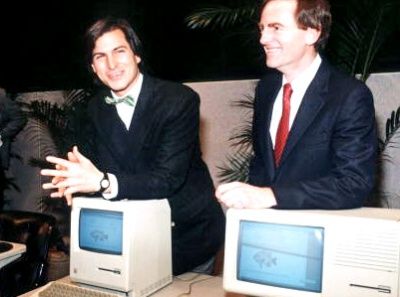 Photo by Cindy Charles/Liaison/Getty Images
A few years later in 1984, Jobs unveiled Apple Computer Corporation's new and first Macintosh along with John Sculley, Apple's president. It was the first commercially successful personal computer to feature a mouse and a graphical user interface.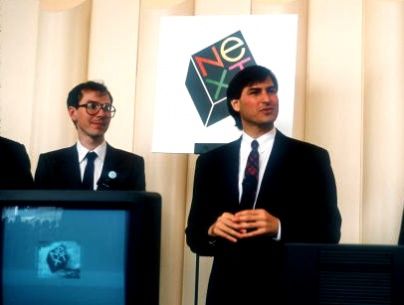 Photo by Shahn Kermani/Liaison/Getty Images
After a power struggle with John Sculley at Apple, Steve Jobs founded NeXT Computer in 1985. Ross Perot invested heavily into the company.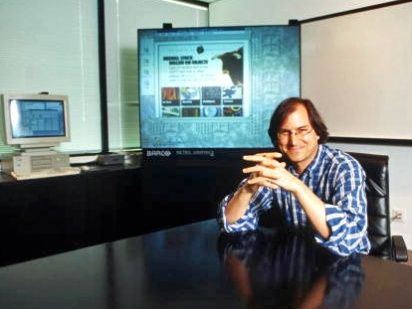 Photo by Anne Knudsen/Liaison/Getty Images
Jobs served as the CEO of NeXT Computer Corporation until Apple acquired the company in 1996. He is pictured here in his Palo Alto, Calif., office in 1995.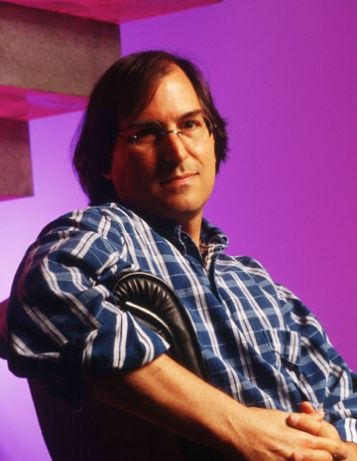 Anne Knudsen/Getty Images
At 40 years old, Jobs was already becoming one of the wealthiest people in America and had a reputation as a gifted innovator and technologist, despite the fact that he dropped out of Reed College after only one semester.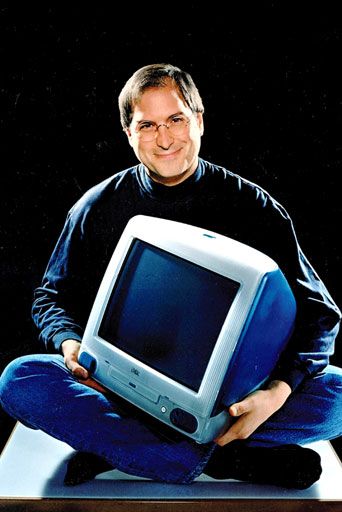 Photo by Moshe Brakha/Liaison/Getty Images
Steve quickly got back to work after returning to Apple. Here he holds the first Apple iMac in 1998. The "i" was meant to represent the Internet and refer to an "individual" personal device. The "i" stuck and became a part of later product names such as the iPhone, iPod and iPad.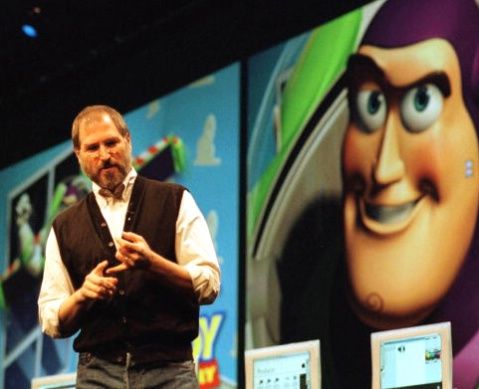 Photo By Alan Dejecacion/Getty Images
Jobs introduced the speed of the new Macintosh G4 computer in 1999 using the animation trailer from the film 'Toy Story'. At the time, Jobs was also the CEO of Pixar, which he bought in 1986.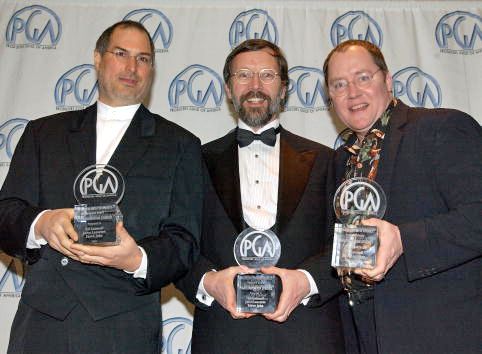 Photo by Vince Bucci/Getty Images
For his work at Pixar Animation Studios, Jobs, along with Ed Catmull and John Lassiter, received the Vanguard Award at the 13th Annual Producers Guild Awards March 3, 2002.
Photo by J. Vespa/WireImage
Here Jobs is pictured with wife Laurene along with Ed Catmull and Rob Cook of Pixar at the 77th Annual Academy Awards in 2005. Pixar's 'The Incredibles' received several awards.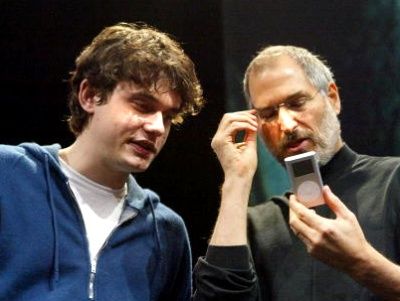 Photo by Justin Sullivan/Getty Images
Apple's success with computers branched out to MP3 players starting with the release of the first iPods in 2001. Here, Jobs shows an iPod mini to recording artist John Mayer.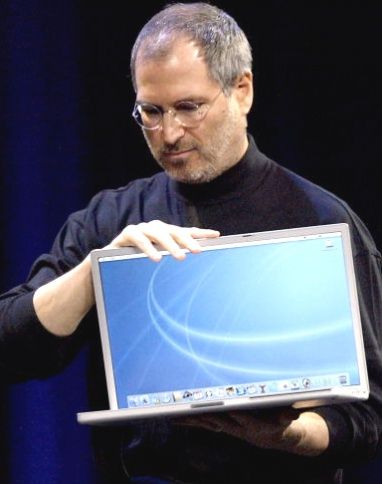 Photo by Justin Sullivan/Getty Images
While the iPods took off, Apple worked on the 17-inch Powerbook G4. Jobs displays the laptop here while delivering the keynote address at Macworld Jan. 7, 2003, in San Francisco. This was also the year he was diagnosed with a cancerous tumor in his pancreas.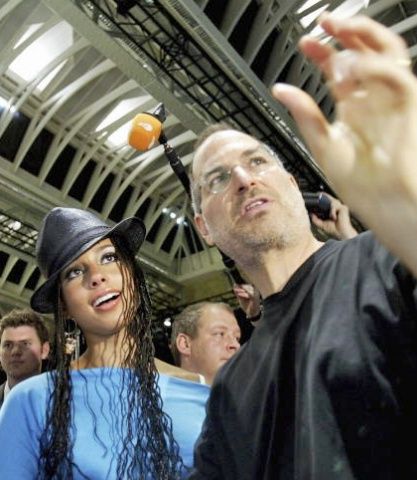 Photo by Ian Waldie/Getty Images
iTunes was the next product to come on the market. Jobs explains iTunes to R&B singer Alicia Keys as he launches the iTunes Music Store in London in 2004.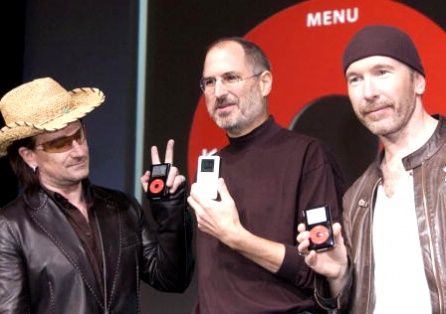 Photo by Tim Mosenfelder/Getty Images
Making time to celebrate, Jobs also joined U2 during the release of a new Apple iPod family of products in 2004. The iPod family today includes the iPod classic, iPod shuffle, iPod touch and iPod nano.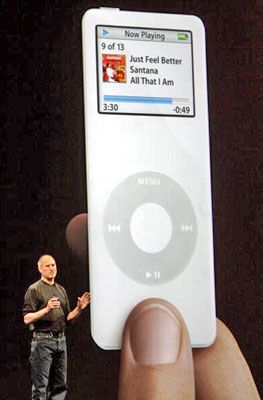 Photo Illustration by David Paul Morris/Getty Images
The iPod Nano was released for the first time in 2005. The 2GB model held up to 500 songs, and a 4GB model held up to 1000 songs.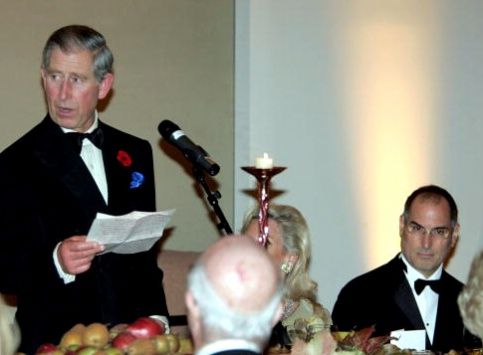 Photo by Tim Rooke-Pool /Getty Images
Also in 2005, Jobs attended a dinner for civic and business leaders featuring Charles, prince of Wales. Two years later Jobs was named the most powerful person in business by Fortune Magazine.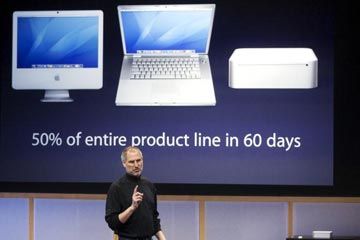 Peter DaSilva/Getty Images
Typically for gadgets and computers, Apple's products kept getting smaller. Here, Jobs announces the new Mac mini with Intel Core Duo processor during a special Apple event in 2006.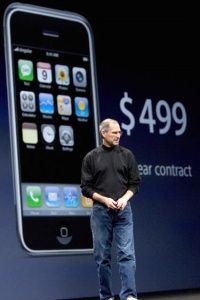 David Paul Morris/Getty Images
The big news came in 2007 when Jobs revealed the new iPhone at Macworld on January 9. The phone was a combination of a mobile phone, a widescreen iPod with touch controls and a internet communications device.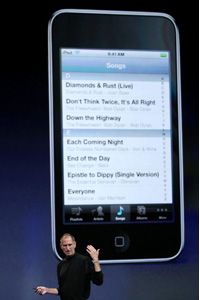 Justin Sullivan/Getty Images News
Steve Jobs also scored a major commercial hit with the iPod touch, which came out later in 2007.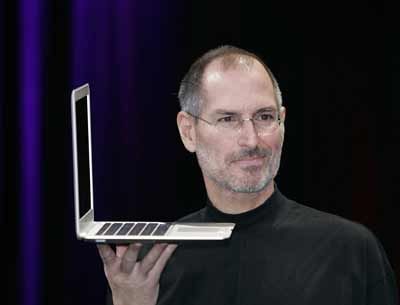 David Paul Morris/Getty Images
Promoted as the world's thinnest laptop, the MacBook Air kicked off the 2008 Macworld event. Although less than 1 inch (2.5 centimeters) thick, it came with an 80 GB hard disk drive. Flash storage models became available soon after.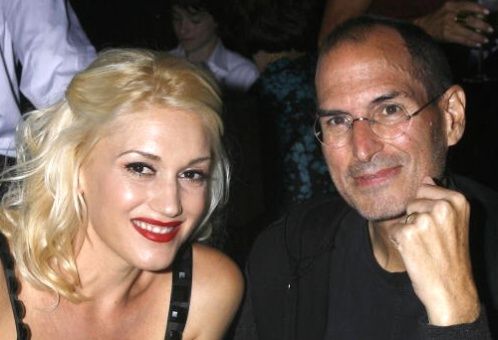 Photo by Jeffrey Mayer/WireImage
Later in 2008, Steve Jobs and and Gwen Stefani attended the 2008 Spirit Of Life Award Dinner in October. The event raised money for City of Hope's research in combating diseases such as cancer and diabetes. Many questions about his health arose this year and he ended up taking a six-month leave from Apple in early 2009.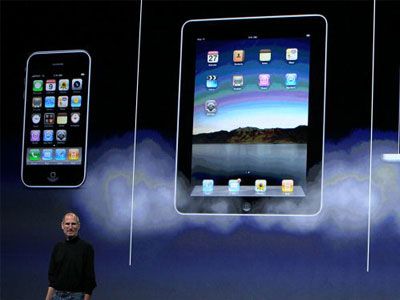 Justin Sullivan/Getty Images
Steve returned to work after a liver transplant and Apple diehards jumped for joy on Jan. 27, 2010, when the iPad was announced.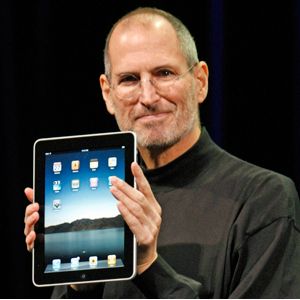 Several million iPads were sold in the first 80 days it was on the market. At the end of 2010, the Financial Times named Jobs its person of the year.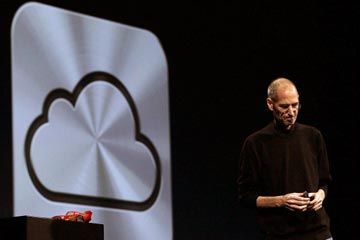 Justin Sullivan/Getty Images
The following year, Jobs introduced the iCloud service at the Apple World Wide Developers Conference in June 2011. As a surprise to some, he stepped down as CEO in August of the same year.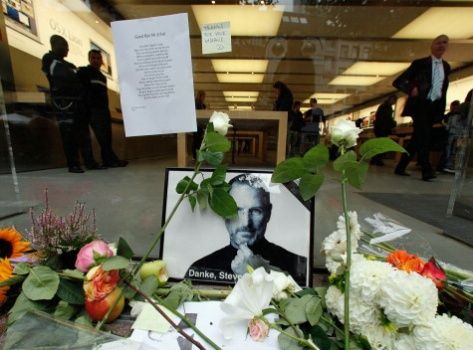 Photo by Ralph Orlowski/Getty Images
Less than two months after Jobs stepped down as CEO, he passed away on Oct. 5, 2011. After hearing the news, mourners left tokens of remembrance around the world in honor of him. The Apple Web site posted this statement: "Apple has lost a visionary and creative genius, and the world has lost an amazing human being." To learn more, see 5 Myths About Steve Jobs or test your knowledge with the Steve Jobs Quiz.