The Creative Process
Every print piece starts with the creative process. Writers, editors, graphic designers and artists are the initial step in the creation of magazines, newspapers, brochures, flyers, catalogs and other print pieces.
The How Stuff Works Express creative team begins work months in advance of each edition's publication date. Topics for articles are identified and writers are assigned. Strict guidelines for word length and a reliance on custom graphics keep articles short, informative and entertaining. Editors help focus copy and keep the whole process moving.
Once the text has been developed, graphics are created. Nearly every illustration in How Stuff Works Express is developed as original art exclusively for the magazine. Many "e-meetings" between the author, illustrator and director of design move the work from conceptual drawings to final art.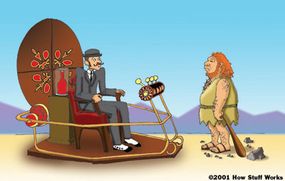 When each article is written, edited and approved with final art, the pieces are sent electronically to the director of graphic design for page layout. The director determines what page a story will appear on, where art will be in relation to words and, in some publications, where advertising will appear. Often, there are difficult decisions to make about how best to fit the pieces of art and text into very limited space. As in the making of a movie, some materials must be left on the "cutting room floor."
Finally, after the layout of every page has been completed, edited and proofread, a digital "printer's file" is created for the entire document. This is usually done by burning a CD, but can also be done with Zip files or File Transfer Protocol (FTP).