Pop-Up and Pop-Under
­ A pop-up ad is ­an ad that "pops up" in its own window when you go to a page. It obscures the Web page that you are trying to read, so you have to close the window or move it out of the way. Pop-under ads are similar, but place themselves under the content you are trying to read and are therefore less intrusive.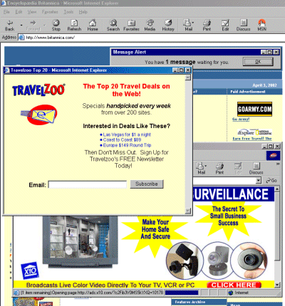 Pop-up and pop-under ads annoy many users because they clutter up the desktop and take time to close. However, they are much more effective than banner ads. Whereas a banner ad might get two to five clicks per 1,000 impressions, a pop-up ad might average 30 clicks. Therefore, advertisers are willing to pay more for pop-up and pop-under ads. Typically, a pop-up ad will pay the Web site four to 10 times more than a banner ad. That is why you see so many pop-up ads on the Web today.