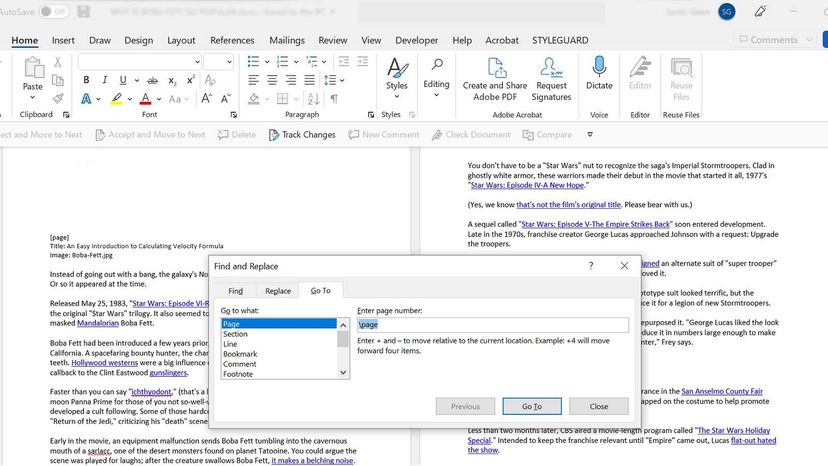 These days, deleting data on your computer — permanently — is nearly impossible. There's always going to be a copy somewhere because just simply clicking "delete" on a file or dragging it to the trash bin doesn't cut it. That's because the delete command doesn't actually remove data from a computer's hard drive. It just "hides" it, so you can easily take the files out of the trash.
Microsoft Word, on the other hand, makes deleting a page containing text, graphics or other content extremely easy for budding writers who might want to "forget" their first few manuscript pages in the next great American novel. Here's how to permanently delete those pesky pages in Microsoft Word.
Click or tap anywhere within your Microsoft Word doc and press Ctrl+G (Option+⌘+G on Mac).

When the Find and Replace box pops up, select the Go To tab.

In the drop down menu select type select Page; when it asks you to enter a page number, enter: \page.

Press Go To and then select Close.

The page of content you want to delete should be highlighted; if it is press the Delete key on your keyboard and it should disappear.
If you need to delete blank pages in the middle of a document, follow these steps:
Press Ctrl+Shift+8 (⌘+8 on a Mac) to first show the page paragraph marks.

Next, select the paragraph mark of the page you want to delete.

Inside the font size box, type 01, and then press Enter (Return on a Mac).

Now, the blank page should be gone. Pro-tip: You can press Ctrl+Shift+8 (⌘+8 on a Mac) to hide your paragraph marks.