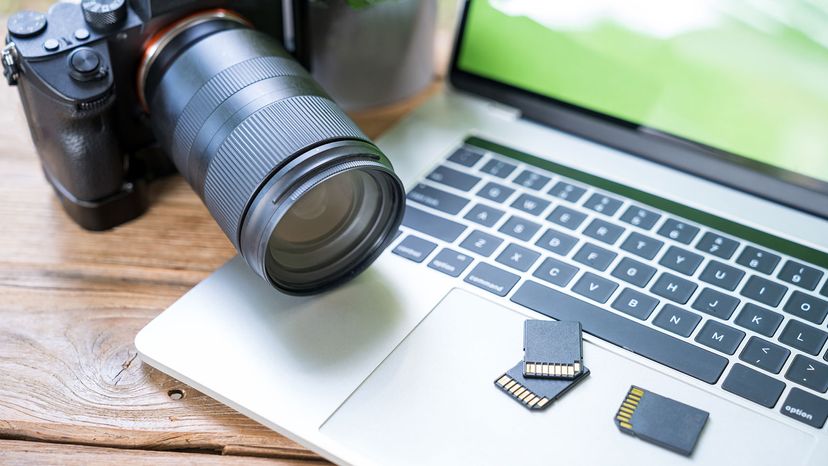 You've taken great pictures on your digital camera or smartphone, but how do you save them on your laptop? The answer lies in memory cards. They're a widespread, useful storage medium for transferring photos, video and other files from one device to another. For digital cameras, SD and CompactFlash remain popular memory card formats, while the smaller Micro SD has become the standard in smartphone storage. The simple directions outlined in this article will make the memory card transfer process quick and easy.
Remove the memory card from your camera or phone. Alternatively, the device may have come with a USB transfer cable. Using the cable method, you can leave the card in your camera and tether it to the laptop or PC. Plug one end into the device's data port, and the other into the computer's USB slot. On some cameras, the cable method will transfer slower than going through the memory card directly. Notably, Apple phones lack any memory card storage options, so USB will be the only way to go on those devices.
Many laptops and some desktop PCs include a built-in SD card reader. If your machine has one, then an SD card can easily be slotted in to read off image files. If your PC is lacking an SD slot, or if you need to read a different card format, then an external card reader will be required. These readers usually plug into an available USB port and can be used to transfer files like any other external drive.

Locate the destination folder on your computer where you want to store your pictures, such as the Desktop, the primary Pictures folder or a sub-folder in either.

Open the destination folder of your choice. A message will pop up saying that the device is connected and asking what you want Windows to do.

Select Import pictures to my computer from the choices offered.

Select the pictures you want to transfer. Make sure the box under each picture you want to transfer has a checkmark in it.

Name your pictures, when prompted to do so. Label them in some identifiable way, so you'll be able to find them when you want to look at them again.
You can transfer your pictures manually by dragging and dropping the image files in the PC card's folder to your computer's folder that you opened, or by using your operating system's copy and paste shortcuts. Simply click on the picture you want to transfer and, while holding down the mouse button, move it and the mouse pointer to the folder you'd like to save it in. The files can also be batch copied by highlighting many image thumbnails at one time.