Digital Camcorders
There are hundreds of digital video cameras, or camcorders, on the market today from manufacturers like Sony, Panasonic, JVC and Canon. Most of them use what are known as MiniDV tapes like the one shown on this page.
Just about every camcorder based on the MiniDV tape format includes a FireWire (IEEE 1394) port on the camera so that you can load the video onto your computer quickly and easily. The following three cameras are typical of digital camcorders on the market today.
Whichever type of camera you pick, it needs to have a FireWire connection so you can hook it to your computer. A FireWire connection normally looks like this: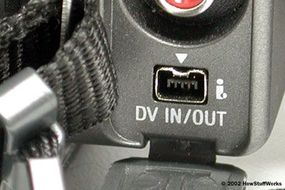 Next, we'll learn about computer requirements and the software.