AIM Applications
According to a 2004 study by the Pew Internet & American Life Project, 11 million Americans use IM at work [source: Pew Internet & American Life Project]. While some office workers undoubtedly use IM to chat with friends, many others have tapped into the technology as a powerful professional collaboration tool.
With this in mind, AIM has released AIM Pro, a free IM tool that's designed to meet the communication needs of the modern office. Here are some of the key features of AIM Pro:
Desktop sharing - AIM Pro is powered by WebEx, a conferencing company. Desktop sharing is a powerful Web conferencing tool that allows you to show the contents of your computer screen to anyone logged into the conference.
Videoconferencing - This feature is similar to video calls on AIM 6.5. You can add video capability to any chat session between AIM users.
File-sharing - You can send important documents to colleagues instantly without worrying about exceeding maximum attachment sizes on e-mails.
E-mail - AIM Pro integrates with Microsoft Outlook so you can send, receive and manage all e-mails and IMs from one interface.
Calendar - AIM Pro has a built-in calendar program that also integrates with Microsoft Outlook to update you on important meetings and appointments directly in the IM window.
Security - AIM Pro relies on the secure WebEx conferencing infrastructure to encrypt and safeguard information that travels across the network.
AIM Tunes is a new Aim application that allows any two AIM users to listen to each other's music for free. Here's how it works: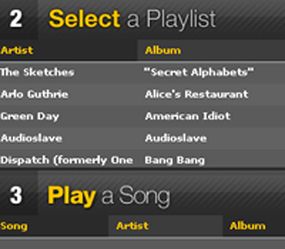 AIM Tunes allows users to create playlists.
Download the free AIM Tunes software plug-in.

Once a user logs onto AIM Tunes, the software automatically searches his hard drive for audio files.

Now any of that user's buddies can log onto AIM Tunes and search his music library.
AIM Tunes can't, however, stream music protected by DRM (digital rights management), which includes most of the MP3s sold on sites like iTunes and Napster [source: YouTube].
AIM 6.5 also lets you receive IMs even when you're logged out or offline. By going into Web settings, you can choose to "accept offline IMs" from buddies on your Buddy List. When you log back on to AIM, you can read any IMs that you missed while you were away. Previously, AIM didn't allow you to send IMs to users who were offline.
AIM Bots are automated buddies for checking movie times, stock tickers, prices on digital cameras and lots of other services. AIM Bots have their own group in the Buddy List. To use one of the bots, double-click on its icon to open an IM window and type in something simple, like "Hi." Press "Send." The bot will then give you instructions on how to use the service, usually through a series of numbered menus.
Community chat rooms used to be a big part of the AIM and AOL experience in general, but they've become less popular as many were invaded by automated chat bots, the chat equivalent of spam. AIM has moved the conversation to community message boards that can be found at the AOL People Connection site. You can still access public chat rooms on most versions of AIM by clicking on Chat and scrolling to Community Chat, but many of them are empty or outdated.
We hope this HowStuffWorks article has provided a good overview of the basic and advanced features of AOL Instant Messenger. For more information about AOL instant messenger and related topics, see the links below.
Related Articles
More Great Links