Using eBay: Selling Items
We are going to try to sell a refurbished Samsung Yepp MP3 player on eBay. To sell something on eBay, you don't need much -- a few descriptive details is about all it takes. And if your item is in tangible form, it's good to have a picture of it. If we click the "Sell" button at the top of the homepage, we arrive at the first step in the listing process:
We don't have an eBay Store, so we're not going to be selling at a fixed price. And we're not advertising real estate. So we're going to choose "Online Auction." The next step is to choose the category we want our item in. MP3 players definitely belong in the consumer electronics category.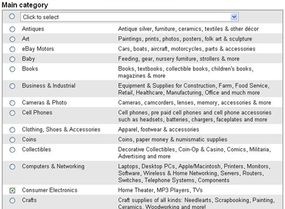 At the bottom of this page, we can choose to list our item in a second category for an additional fee, but Consumer Electronics is the obvious place for buyers to look for an MP3 player, so we'll just stick with that. On the next page, we'll choose "MP3 Players" as our subcategory, "Samsung" as the brand and "Yepp" as the model.
Now it's time to describe the MP3 player we're selling.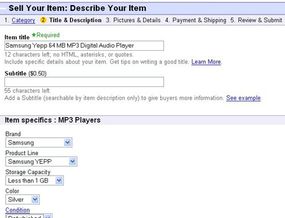 The field for the freestyle item description is at the bottom of the page. You don't need to know HTML unless you want to do something fancy with your description (see How Web Pages Work to learn HTML). If your description will look fine as a block of text, you don't need any HTML tags at all. If you want any font changes or spaces between paragraphs, you can use this simple HTML template, which includes a header setup and a few paragraph tags:
AUCTION TITLE
ITEM DESCRIPTION
ADDITIONAL DETAILS
This is what we're going to paste into the description box:
Samsung Yepp 64 MB MP3 Digital Audio Player REFURB
Up for auction is a refurbished Samsung Yepp model YP-30S MP3 player with 64 MB onboard memory. It's also a digital voice recorder. It measures about 2.5 inches tall, 1.75 inches wide and just over 0.5 inches deep. I bought it on eBay a couple of years ago but didn't end up using it much. On the outside, the player is immaculate, and as far I know it works. You can definitely load and listen to music and navigate through your MP3 files. Aside from that, I'm not sure because I never read the manual or tested its various functions.
Along with the player, you'll receive the user manual, installation CD, USB cable (not shown in picture) and carrying case with belt clip.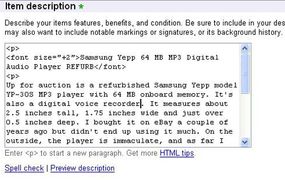 Next, we'll set a starting price, decide if we want to provide a "Buy it Now" option and set the auction duration. A little research tells us that a brand new Samsung Yepp YP-30S is selling for about $90, and a refurbished one is selling for about $40. Since we can't say for sure that every function on this player works, we'll start the bidding low -- at $9.99. This is a good idea for several reasons:
It provides incentive for someone to buy this MP3 player even though the seller is somewhat uncertain as to its condition.

It lets people consider buying it just for parts.

It cuts down on the listing fee we'll be paying to eBay, because part of the listing fee is based on the starting price.

Setting a reserve price, which is the lowest price at which you're willing to sell your item, costs extra, and it really only makes sense to set one when you're selling a high-value item. In that case, starting the bidding at the lowest price you're willing to accept would mean a very high listing fee, so you might start the bidding low but pay a small fee to set a reserve. We've chosen not to set a "Buy it Now" price because auctions are fun, and we've gone with the standard, 7-day auction that will start as soon as we submit our listing. Next, we're going to scroll down a bit and add a picture.
We're using eBay Basic Picture Services because we only have one picture to load, and the first picture is free. All we have to do is click "Browse," locate the picture on our hard drive and double-click the file. If you have only a few pictures and you're not selling 50 items a week, it makes sense to use eBay's system. Otherwise, you might want to look into the cost-effectiveness of going with your own image-hosting service.
The rest of that page is filled with additional features that you can purchase for a fee, including bold-face type for your title, a fancy frame for your listing and a spot in the "Featured Items" box that begins any list of search results. We're going to pass up those extras in order to keep our listing price down.
On the next page, we choose our payment methods and set our shipping fee. We're going to make this a PayPal-only auction to keep it simple (and because the author already has a PayPal account), and we'll estimate our shipping cost so buyers know up front what they'll be paying if they win. We could also wait and send the winning bidder the shipping cost once we know his zip code, or we could set up a shipping calculator that allows the buyer to enter his zip code and find out the exact shipping charge. A seller can ship using any carrier, including the U.S. Postal Service, UPS and FedEx, or the seller can let the buyer choose the shipping method once the auction ends.
At the bottom of this page, we establish our return policy and provide any additional payment instructions if we have them: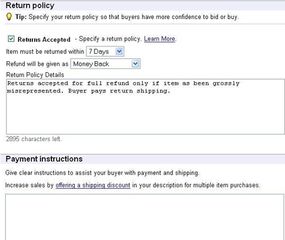 The final step is to review our listing details on the next page and make sure everything is correct. If not, we can makes changes and review it again. The bottom of this page shows our total listing fee: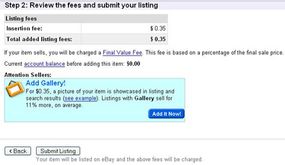 eBay charges an insertion fee of $0.35 for starting prices between $1.00 and $9.99. We didn't purchase any additional features, so that's all it costs us to list this item. When someone buys the MP3 player, we'll also pay eBay a final-value fee. If it sells for $25.00 or less, the fee is 5.25 percent of the final sale price. For a complete list of seller fees, go to eBay.com Fees.
Once we're satisfied that everything is correct, we officially submit the listing. Since we chose to start the listing immediately, it immediately shows up on the eBay Web site: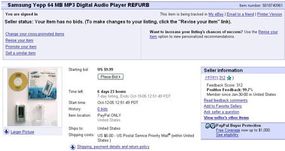 Now we have an item for sale on eBay. The area with the blue background only shows up for us. We can make changes to the listing by clicking "Revise your item" as long as no one has placed a bid and there are more than 12 hours left in the auction.
If at least one person places a bid before the auctions ends in seven days, we've got ourselves a buyer. When the auction is over, we'll send our buyer an invoice through eBay -- it's basically a one-click process. We click on the "Send Invoice" button either on the auction page or in the sale-confirmation e-mail we receive from eBay, enter any payment details we did not already include in our listing, and hit "Send Invoice."
Once we receive notification from PayPal that the buyer has sent his electronic payment, we'll ship the item to the buyer's confirmed PayPal address and leave positive feedback. Hopefully the buyer will also leave positive feedback once he has received his MP3 player in a timely fashion and finds it to be as we described it in the listing.
Feedback is the best tool available for weeding out the bad sellers and backing up the good ones. Still, with all of the buying and selling that happens on eBay, all of it based on pictures and descriptions, fraud does happen. In the next section, we'll talk about some ways you can protect yourself from common schemes.