LinkedIn Contacts
Now that you've filled out your LinkedIn profile page, the second step is to search out and connect with other members of the site. LinkedIn provides several methods for searching out contacts:
Upload your e-mail contacts

Colleague search

Classmate search

Name search

Advanced search
If you have a Gmail or AOL e-mail account, you can type in your e-mail address and password and LinkedIn will automatically find all of your e-mail contacts who are already members of the site. You can also use LinkedIn's "Find Contacts Wizard" to upload contacts from Microsoft Outlook or any other address book software.
Once you've uploaded your contacts, you then can select which of those LinkedIn users you'd like to invite to become members of your network. You can also use this opportunity to invite all of your non-LinkedIn contacts to join the site.
Using the employment information from your profile page, LinkedIn will also show you all of your past and present colleagues who are members of the site. Just like your e-mail contacts, you then can choose which colleagues you'd like to invite to join your network.
The same goes for your education history. Using the classmate search, LinkedIn will show you a list of all of the current LinkedIn members who attended your college or graduate school at the same time you did. You can also narrow down the search results to only those who graduated in your class.
If you click on the "People" section of the LinkedIn Web site, you can conduct a name search or an advanced search. With a name search, you enter either a full name or just the last name of the person you're looking for and LinkedIn will give you a list of all current members who share that name.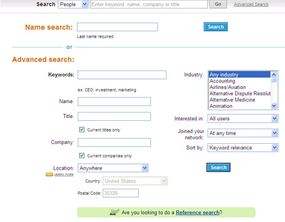 An advanced search allows you to search for LinkedIn members using several different criteria: keywords, name, title, company, location and industry. Advanced searches could help you find an "inside contact" at a company to use as a sales lead or can give you the inside edge on a job application.
The third step -- after you've built your profile and found people you know -- is to turn these contacts into "connections."