How is LinkedIn Different?
LinkedIn is different than other social networking sites in that it's designed solely for the purpose of professional networking. As we said earlier, a LinkedIn profile page is essentially an online résumé. You can't post photos (other than your profile photo). You can't host a blog. You can't embed your favorite YouTube videos or playfully "poke" your friends. You can't personalize the colors or layout of your profile page or search for "single females, age 25-30" in your area.
The clean, streamlined design of a LinkedIn profile page is part of a conscious effort to put a professional polish on social networking sites. There have been several high-profile cases in the news of people being passed up for jobs, or even losing jobs, because of a poorly chosen photo or comment on their blog, MySpace or Facebook page. LinkedIn CEO Dan Nye commented that the site is designed to present its members in "a professional way on the Internet" [source: LinkedIn].
We also mentioned that a connection on LinkedIn implies more than a casual acquaintance. LinkedIn recommends that all connections be viewed as potential professional or personal references. You should feel confident that all of your connections would give you a positive recommendation to a future employer or a kind introduction to other members of their network. Also, once someone becomes your connection, they'll have access to all of your other connections. You don't want to connect with anyone who will embarrass or misrepresent you with your other connections.
LinkedIn differs from its closest competition, Facebook, because Facebook is group-based while LinkedIn is much more focused on the individual and his accomplishments. For example, Facebook automatically assigns members to "networks" based on their physical location and which college they attended. This is most likely a holdover from the days when Facebook was only for college students. Facebook members can then easily sign up with thousands of other groups and networks formed by Facebook members.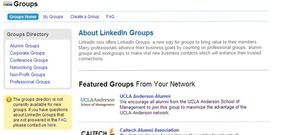 LinkedIn has something called LinkedIn Groups, but the process of creating and joining a group is more involved than Facebook or most other social networking sites. LinkedIn has a special review panel that accepts new group requests only from professional organizations, alumni groups, professional alumni organizations, industry conference and similar business-oriented groups. And once a group is added, the group's manager is in charge of accepting or rejecting all applications to join the group.
LinkedIn also operates using a different business model than most social networking sites. There are some Google ads on LinkedIn, but no corporate sponsors or other commercial ads as of yet. In comparison, MySpace was pulling in nearly $25 million a month in online ad revenue by February 2007 [source: Media Week]. And Facebook announced an advertising scheme in early November 2007 that will bring highly targeted corporate ads to the site from names like Coca-Cola, Blockbuster and Verizon Wireless [source: PC World].
Instead, LinkedIn makes money in two basic ways. First, the site charges users for certain services. If you want to send more than five introductions, you have to upgrade to one of the premium accounts (Personal Plus, Business or Pro). Same goes for sending InMail or receiving OpenLink messages. Posting job openings costs money on LinkedIn, as do other site services like reference searches and expedited customer service.
But the way LinkedIn really makes the big bucks is through LinkedIn Corporate Solutions, a powerful tool for recruiters and corporate headhunters. When a registered LinkedIn user adds his professional and educational experience to his profile page, he's adding his personal information to the ever-expanding LinkedIn professional database. For a steep annual subscription fee (as high as $100,000 to $250,000 for some companies), LinkedIn Corporate Solutions supplies recruiters and headhunters with enhanced search tools and management software to find the most qualified "passive candidates" [source: HR.com].
A passive candidate is someone who already has a job and isn't actively looking for a new one. According to LinkedIn, a passive job candidate generally has higher qualifications than the average active job-seeker [source: LinkedIn]. Corporate recruiters search out skilled workers in other companies and try to convince them to switch to another firm. LinkedIn estimates that more than 100,000 of its members are professional recruiters [source: Workforce.com].
Now let's look at who uses LinkedIn and for what purposes.