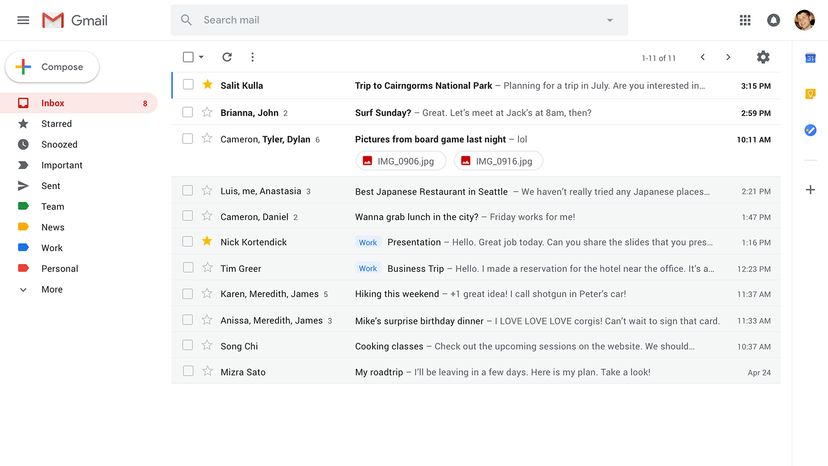 Countless computer users leverage Gmail as a go-to repository for their digital lives. But if your account is hacked or inaccessible for any reason, there's a chance you could permanently lose all of that data. You can prevent this kind of catastrophe by backing up your Gmail data in various ways.
Start by using Google's native backup tool to export and download your data to your computer. It will first compress all of your messages into a zip file so it will be easy to download. It's simple to do in just a few steps.
Log into your Gmail account at myaccount.google.com.

In the personal info & privacy section, click control your content.

Then, in the download or transfer your content section, locate download your data, then click create archive.

This will open a new page that presents you with dozens of Google tools that have data you can download, and because you only want your Gmail data, click select none at the top of the column.

Next scroll down and select just the option for mail.

Finally, you'll be given various archive options, as well as a delivery mechanism. Choose how you want to save and receive, and you'll get a link from Google that works for up to one week with instructions on how to download your archive.
Many people eschew desktop client email software, but apps like Thunderbird, Mailbird and Outlook are very powerful. You can link your Gmail to one of these apps and they'll synchronize to your local client, giving you a backup of all of your emails on your computer in addition to the cloud.
Another way to back up incoming Gmail messages is to forward all new messages to a different email account that you set up on a non-Google site (that way, in case Google has a company-wide meltdown, you don't lose everything). To do this, just set up a filter in your Gmail settings and you're good to go.
Just remember that this method will only back up incoming emails — it does nothing in terms of backing up previously received and sent emails. And critically, it doesn't apply to your outgoing messages.
There are, of course, a bevy of third-party programs that offer a range of powerful, customizable tools for Gmail backups, such as Gmvault, which is free. It has a bit of a learning curve, but this tool is so powerful it can restore all of your old Gmail messages into a brand-new Gmail account of your choice.
Or you can try subscription services such as UpSafe, Mail Archiver X or Backupify. No matter how you do it, make email backups a part of your routine, lest you lose vast swaths of your online life in the ether of the internet underworld.